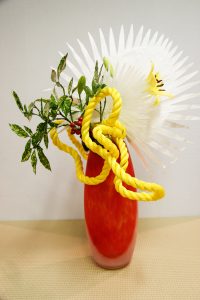 SOGETSU is one of many schools of IKEBANA. Ikebana is the art of Japanese Flower Arranging. Ikebana is one of the fundamental traditional arts of Japan.
The Sogetsu School practices ikebana for contemporary times. Sogetsu does not imitate nature, it encourages students to use lines, hues, and masses provided by nature to express their own interpretation.
The Washington DC Metropolitan Area Branch invites you to look at the art of Sogetsu Ikebana and to share in our activities relating to the art. The Branch presents exhibitions, demonstrations and programs on a regular basis throughout the year.